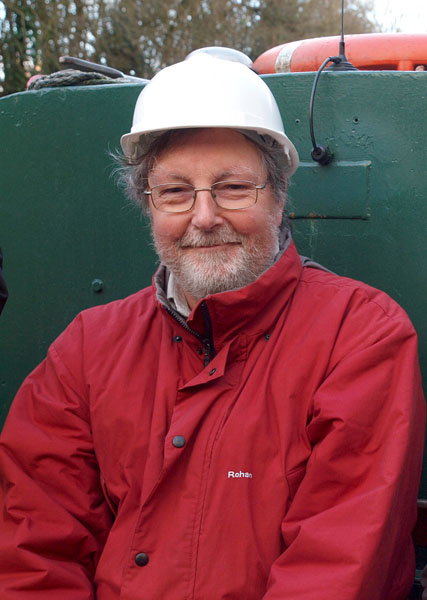 The Geological Curators Group are saddened to bring news of the death of one of our longest standing members, Alan Charles Howell, who died suddenly at home on 22nd November 2022.
Alan was born in 1949 and raised in Birmingham, England. He read Geology and Geography at Exeter University before gaining a place on the Museums Studies Course at Leicester University. His career then led him from Wollaton Hall, Nottingham, to Bolton Museum, and finally to Guernsey Museum in 1986, where he was the first full time curator of the Natural History collections. He retired from this position in 2014 but continued to volunteer one day a week, working through more of the collections.
He was heavily involved in the early development of MODES and served on both their Development Committee and Support Teams for many years. He introduced the first computer to the Guernsey Museum in order to assist with documentation, and was heavily involved with their IT systems afterwards.
Alan joined GCG just after the group was founded and remained a member throughout his life. He spent time on committee as the Group's Recorder in 1982 and 1983, and was always keen to be involved in GCG activities, writing articles and attending meetings whenever possible. He invited GCG to visit him in Guernsey for a two-day study tour in 2013. This well organised meeting comprised a day of talks, a chance to see the Museum's collections, and then a field trip around some of the marvellous geology of that island. GCG Study Tour - Doing More With Less - Guernsey Museums (gov.gg). His last meeting was the AGM held in Cambridge in 2019, just a few months before lock-down.
Alan's favourite hobby was photographing aeroplanes and he had only recently returned from an air-show in Las Vegas. Some of his excellent photos can be seen on the Airport-Data website: Alan Howell's photo gallery (airport-data.com).
GCG sends its deepest sympathies to his wife Linda and the rest of their family. Alan was a true gentleman and a long-time friend to many GCG members, all of whom will miss him greatly.
Cindy Howells
GCG Membership Secretary