It was great to see so many members and supporters of GCG at our AGM last Monday, 30th November. Due to the fact that the UK was under a national lockdown, we held this virtually, and, far from being a hindrance, it actually allowed many more people from farther afield to attend the meeting, in addition to our "regulars". Thank you to everyone who took the time to attend and contribute. We will be discussing as a committee if we can incorporate the virtual format into our real world meetings as we move forward.
We started the meeting with two interesting and informative talks, from Derek Leung (Edinburgh University) and Liz Hide (Sedgwick Museum, University of Cambridge). If you were not able to catch the talks live, they were recorded and you can access the recordings (you will need to be logged in as a GCG member) from the AGM pages on the website at www.geocurator.org/agm2020 
We were then able to move to our 47th AGM - again if you missed any of this you can catch up with all the papers from the meeting using the link above. There have only been a few minor changes to the committee structure. The most important change discussed was the conversion of GCG to a CIO (Charitable Incorporated Organisation), and we're pleased to say that the members' vote on this passed with a large majority. This is a much more modern charity structure than the one used back in 1986 when GCG first registered as a charity. For instance:
- The CIO becomes a "body corporate" meaning it has a separate legal personality, and can hold accounts and enter into contracts in its own name. This to some extent protects the individual trustees of the charity in the event of problems.
- The constitution is much more thorough, and we have developed ours with only a few changes to the model constitution provided by the Charity Commission, which means that most eventualities are already covered, and it is easier to work with the constitution in future if changes are needed
- We are still governed by the Charity Commission, and there are plenty of resources available for training new and existing trustees. At the same time there are less obligations to deal with than, say, a charitable company.
This may sound like a huge change, and it will indeed be a lot of work for the committee to get it working. However from the point of view of our members, we hope it will be as smooth a transition as possible. There may be some small changes to be made, and we value your co-operation when these need to happen. To this end, we have set up a dedicated area on the website - please bookmark this page, and check back to see how we are progressing:
Finally we rounded off the evening with a quiz devised for us by committee member Zoë Hughes - we hope Jackie enjoys piecing together the 1000-piece William Smith jigsaw over Christmas and New Year!

Thank you to everyone who attended and engaged with the meeting, and a big thanks to Derek and Liz for their excellent talks!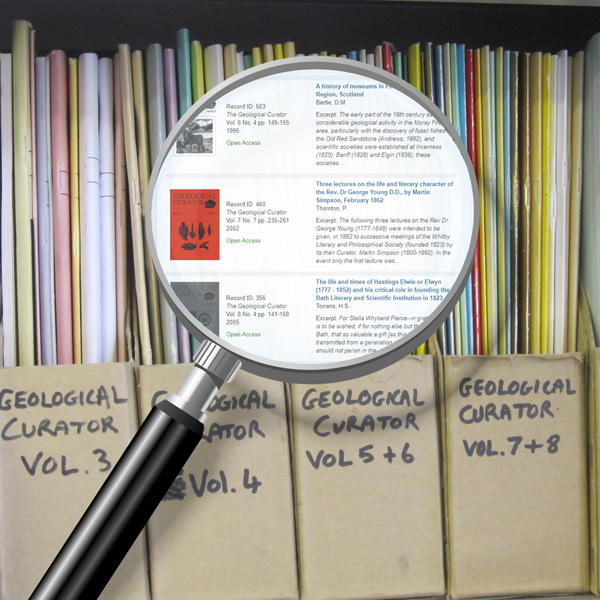 Our online search portal is an exciting new development allowing current subscribers to the journal to search the full text of our back issues. The vast majority of our back catalogue has now been indexed, with new issues being added on a regular basis. 
You can search the complete text of all articles, or search by author, date, or any combination of these to ensure you can find the article you are looking for. Articles have been rescanned at higher resolutions, and have been reformatted into "offprint" style PDF's, for easy printing or reading on-screen. There are comprehensive instructions to help you get the best out of your queries. 
The best way to get access to the Geological Curator Search Portal is to join GCG, which you can do anytime at https://www.geocurator.org/membership. If you are already a member, please log in to the site using the boxes to the bottom right of the screen, and return to this page to get started.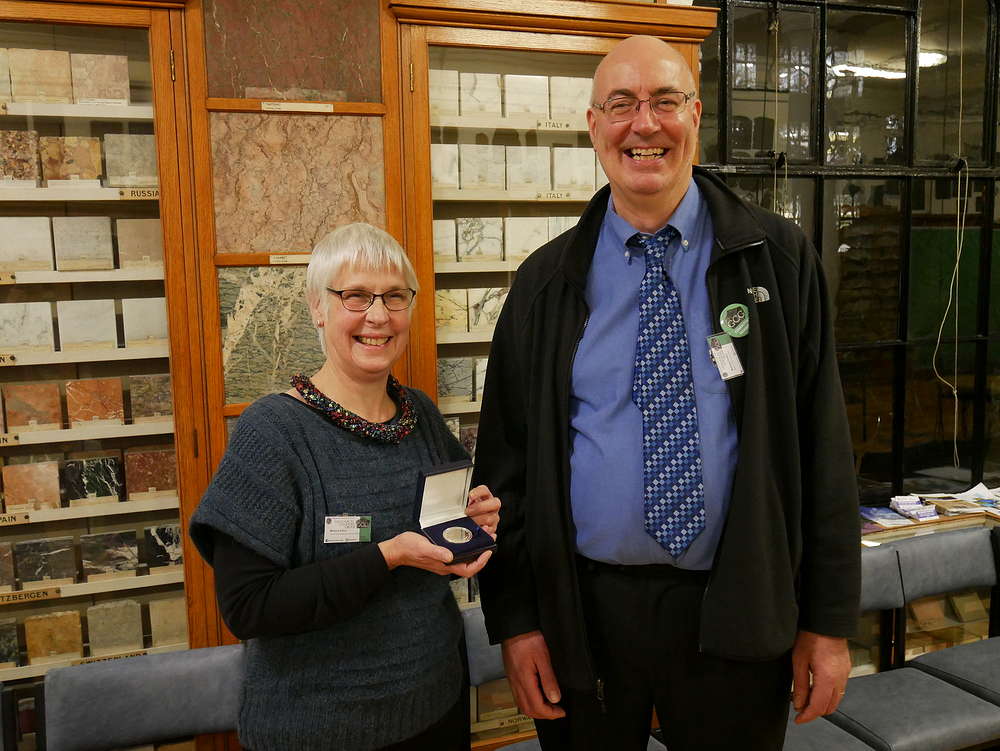 The Geological Curators Group is very sad to learn of the tragic death of our immediate past Chair, Matthew Parkes.
Matthew died suddenly last Friday, 23rd October, and his family, friends and colleagues are devastated. Matthew was Chair of GCG for three years, stepping down in December 2019. He is shown here in his last official duty as Chair, presenting the The A G Brighton Medal to Monica Price. His massive contribution as Editor of the Geological Curator from 2007-2019 also cannot be understated. 
A full obituary will be included in a future Geological Curator journal. 
Further details concerning funeral details and condolences can be found here. The National Museum of Ireland has published an appreciation of his work on their website, https://www.museum.ie/en-IE/News/Matthew-Alastair-Parkes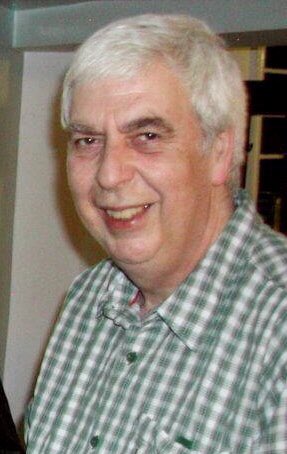 We are sad to report the death of our friend and former colleague Don Steward, geological curator, GCG committee recorder around the early 1980s, and long-term GCG member and supporter. Don originally studied Geology and Zoology at the University of Reading, before studying for a Masters Degree in Oceanography at the University of Southampton. Following a spell in micropalaeontological research, Don entered the world of museums and curation at Bristol City Museum in the mid 1970s, where he worked as one of a small team of geologists. Don soon moved on to what is now the Potteries Museum in 1978, where he spent the rest of his career, until retirement in 2016. During these years at the Potteries, Don worked initially as Assistant Keeper of Natural History and ultimately as Senior Museum Officer (Natural History). The museum's rich and diverse geological collections were a major focus of Don's work; documentation, interpretation and publication. Don's interests in geology always extended beyond the museum, through his extensive work on local geoconservation and site interpretation with the North Staffordshire Group of the Geologists' Assocation.
We knew Don as a kind, friendly, thoughtful and highly knowledgeable natural science curator, always willing to share knowledge and experience, not least at regular get-togethers of the West Midlands Natural Science Collections Group. He'll be greatly missed.
Jon Radley (Warwickshire Museum) and Vicky Ward (University of Leicester)