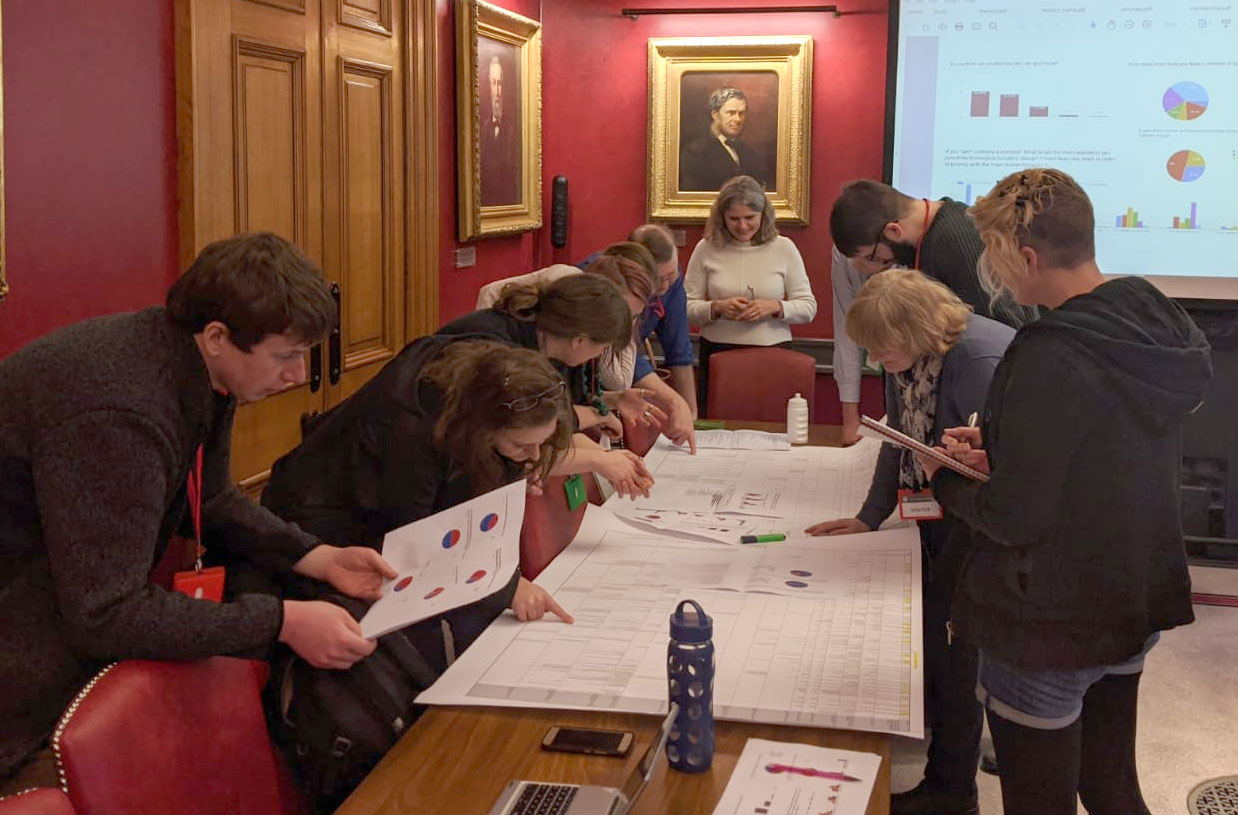 If you work with or are interested in geological collections, then you should consider getting involved with the running of GCG. The entire committee is run on an unpaid, voluntary basis, and we always have a need for people with varied skills to join the team.
The most basic way you can get involved is to become a member, or persuade your institution to join up. Membership rates are extremely reasonable and you can join online.
Please let us know that you're out there! For instance we'd love to know if the entry for your collection is up to date on our Collections Map, or if you are working on an interesting project we might ask you to write a short, non-technical article for our blog. Finally our journal is always looking for new submissions.
There are regular openings for positions on our committee. We meet at least three times a year, either in person or over videoconference. 

We welcome everyone, not just curators: our members are also museum and heritage volunteers, collectors, students, academics, educators, and everyone in between. 
Members of GCG can be elected to committee by our membership at our AGM every year. There are also a number of voluntary officer positions which can provide a useful stepping stone if you are not sure about what the roles entail. 
Certain committee positions also confer trusteeship of the charity. This is set out in our constitution and trustees should abide by the regulations outlined by The Charity Commission for England and Wales.
We are a small charity, but we will try to help you as much as possible, for instance by providing training that is applicable to your position. Different positions come with different time commitments, but we will discuss this with you before you make any decisions.
If you are interested, you should keep an eye on these pages (www.geocurator.org/getinvolved) or e-mail the chair on

This email address is being protected from spambots. You need JavaScript enabled to view it.

 - we would be happy to set up a phone call or video meeting to discuss things further.
We are seeking two new applicants to fill vacant trustee roles:
The most important things for potential Trustees to have are a passion for geological collections, and time to dedicate to the organisation, but have a look at each role for more details. We are flexible and friendly, and we welcome and encourage applications from people of all backgrounds.
All Trustee positions, subject to application and ratification at an AGM, are for three years, with a possible extension of a second term. They are voluntary posts, but expenses are covered when approved in advance. Trustees must be current members of GCG, and eligible to serve as a charity Trustee under the Charity Commission guidelines here: https://www.gov.uk/government/publications/the-essential-trustee-what-you-need-to-know-cc3. The committee meets three times a year, plus the AGM, and there is various work to be completed throughout the year. 
If you are interested in a role, please contact This email address is being protected from spambots. You need JavaScript enabled to view it. for an informal discussion.