As part of the ongoing development of the GCG website, you are now able to sign up for your membership and pay online. So if you have been considering joining us, but just can't remember where you put the cheque book, then this is for you.
You can find everything you need in the membership section accessible from the top menu bar of the website at www.geocurator.org
We are also inviting existing members to create an online account, which will enable you to have access to the members only resources as we begin to develop these. If you have already paid your subscription for 2018 then you do not need to pay again - simply choose the "offline payment" method. We will then cross-check this with our existing membership records. This will also provide you with another payment option for renewing in 2018 via PayPal - although of course you can continue to use the existing payment methods we offer of cheque, bank transfer or standing order. 
Your transaction is fully secure and protected by 256-bit SSL encryption. You can get advice on staying safe online from Get Safe Online.
For more help, or to discuss your existing subscription method, please contact Cindy Howells, This email address is being protected from spambots. You need JavaScript enabled to view it. 
NatSCA
are running a day on how to put on museum exhibitions. It's at UCL on 22nd September.
Topics include:
Producing exhibition catalogues (Sophie Forgan, Captain Cook Memorial Museum)
Access considerations in museum displays (Euan's Guide - the disabled access review website and app)
Targeting and consulting audiences (Raphael Chanay, Natural History Museum)
Modern taxidermy display practise (Ebony Andrews, Calderdale Museums)
Labelling natural history objects (Jan Freedman, Plymouth Museums)
Attracting corporate sponsorship for exhibitions (Nick Marsden, Science Museum Group)
How to use living animals in museum displays (Michelle Davis, Horniman Museum)
The June 2017 edition of Geoscientist, published by the Geological Society of London, contains an article about the Geological Society 'Students' Instructional Tours" (On seeing the most rocks  https://www.geolsoc.org.uk/Geoscientist/Archive/June-2017/On-seeing-the-most-rocks ). Many well-known names including Eric Robinson, Trevor D Ford, Derek Flynn and Geoff Tresise (Liverpool Museum). It is worth a read just to see how important geological fieldwork was.
We've posted a listing for a new "Preservation of Geological Collections" studentship in our jobs section!
65th Symposium for Vertebrate Palaeontology and Comparative Anatomy
26th Symposium of Palaeontological Preparation and Conservation with the Geological Curators' Group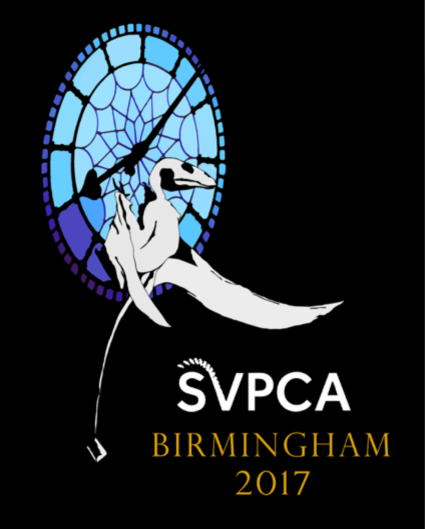 The third circular is now available for this year's SVPCA event in Birmingham, which is organised in conjunction with GCG. Registration and abstract submission is now open - follow the details in the circular.
The main SVPCA website is at http://www.svpca.org/ for further information.