Dear GCG Subscribers,
I'm sure you've all had plenty of recent requests to sign Data Protection consent forms for every single society to which you are affiliated. In order that the Geological Curators' Group may continue to contact you, we need you to confirm that it is still okay to do so. This is because of changes in the law relating to Data Protection which come into force on 25th May 2018. 
I've attached a copy of our privacy policy for your information, as well as the short form that is required by the new law. Please print out and sign the form, then either post it to the address below, or scan and email it back to me at This email address is being protected from spambots. You need JavaScript enabled to view it. 
Without a signed copy of this form we will be unable to contact you in the future. If you'd like more information about how our website handles your information, please e-mail This email address is being protected from spambots. You need JavaScript enabled to view it.
Cindy Howells
GDPR declaration form (PDF)
GCG members and supporters may find the attached letter from the Earth Science Teachers Association useful. 
Many of you are aware I am sure, that unlike other science or humanities subjects, Geology has always been one of the smaller uptake subjects, despite the amazing selling points of fieldwork experiences, and the core topic materials which focus on the fundamentals of things around us and the future of the planet, being able to "look backwards to look forwards" when looking at specimens in museums is an amazing thing.
It is with deep regret that we have to announce the death of Howard Bartlett, a long standing subscriber to GCG. He first joined us in 1985, and although he only attended meetings held in Cardiff, he very much valued his association with our group.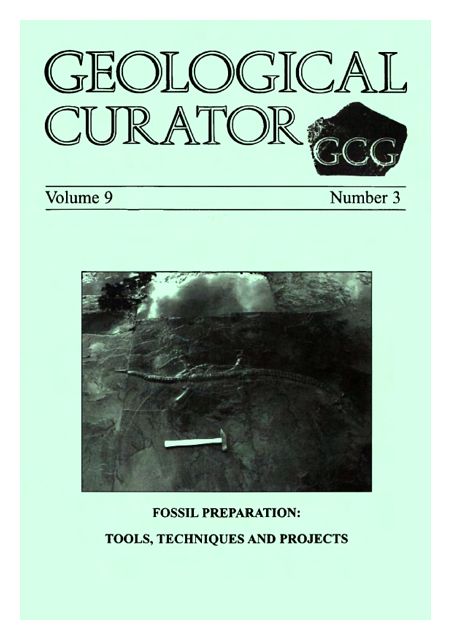 We've just posted three more issues of Geological Curator into the public area of our website. GCG makes all of its publications over two years old publicly available as part of our commitment to the geological community. One of the issues is the Fossil Preparation Special which is rammed full of useful and interesting articles. 
GCG members will have just received a similarly spectacular volume, our Hugh Miller special. If you like what you see in our free content, then why not join us, to get access to our most up-to-date publications.
 Read and download Geological Curator 9(3) and more
Sign up for membership online to read Geological Curator 10(7)
As part of the ongoing development of the GCG website, you are now able to sign up for your membership and pay online. So if you have been considering joining us, but just can't remember where you put the cheque book, then this is for you.
You can find everything you need in the membership section accessible from the top menu bar of the website at www.geocurator.org
We are also inviting existing members to create an online account, which will enable you to have access to the members only resources as we begin to develop these. If you have already paid your subscription for 2018 then you do not need to pay again - simply choose the "offline payment" method. We will then cross-check this with our existing membership records. This will also provide you with another payment option for renewing in 2018 via PayPal - although of course you can continue to use the existing payment methods we offer of cheque, bank transfer or standing order. 
Your transaction is fully secure and protected by 256-bit SSL encryption. You can get advice on staying safe online from Get Safe Online.
For more help, or to discuss your existing subscription method, please contact Cindy Howells, This email address is being protected from spambots. You need JavaScript enabled to view it.